Guru Gobind Singh Indraprastha University
Rechecking Result of Programme MBBS 1st Prof. Supplementary, Exam held in Oct-Nov 2014
Know Your Result
Click Here
Guru Gobind Singh Indraprastha University
Watch out this space for Guru Gobind Singh Indraprastha University.

You can also register your e-mail and mobile number with Amar Ujala Results by clicking tab "Get Your Result on Mobile/Mail" on the right column. Once registered, we will send you an immediate alert of your scores on your mobile and email as soon as the Guru Gobind Singh Indraprastha University is published on our website.

At results.amarujala.com, we bring you Guru Gobind Singh Indraprastha University real time. We wish you best of luck!
News

From Guru Gobind Singh Indraprastha University
Guru Gobind Singh Indraprastha University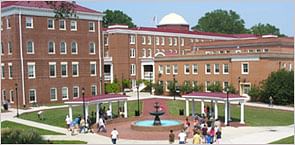 Guru Gobind Singh Indraprastha University established by Government of NCT of Delhi under the provisions of Guru Gobind Singh Indraprastha University Act, 1998 read with its Amendment in 1999. It is also very famous as Indraprastha University or IP University.

The University is recognized by University Grants Commission (UGC), India under section 12B of UGC Act. It was accredited " A Grade " by NAAC. The University has been awarded the ISO 9001:2000 Certification by Standardization, Testing and Quality Certification Directorate, Department of Information Technology, Ministry of Communication and Information Technology, Government of India, for a period of three years. It has been accredited "A Grade" by NAAC during Feb - March 2007.


It is a teaching and affiliating University with the explicit objective of facilitating and promoting "studies, research and extension work in emerging areas of higher education with focus on professional education, for example engineering, technology, management studies, medicine, pharmacy, nursing, education, law, etc. and also to achieve excellence in these and connected fields and other matters connected there with or incidental thereto."

The applicants can take admissions in any course run by the university after appearing in the Common Entrance Test that is being conducted once in year.

Amar Ujala Results website aims to cater to the latest Board, University and Sarkari Naukri Results; along with the latest notifications, on Admit Card, Answer Key, Counselling dates and Career/ Exam Preparation tips. Register on Amar Ujala Results Website for fastest results on UP board, Uttarakhand board, Jharkhand board, Himachal Pradesh board, Haryana board, AP (Andhra Pradesh) board, WB (West Bengal) board, and Gujarat board exams.
© 2022-23 Amar Ujala Limited. All Rights Reserved.