Results : Delhi Technological University
Delhi Technological University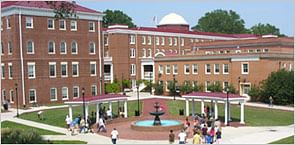 Admission:
http://www.admissions.dce.edu/

Academic Calendar:
http://dce.edu/web/Sections/Academics/academiccalendar.php

Contact Details:
Main Bawana Road,
Shahbad Daulatpur
City: Delhi
Pin Code: 110042
State: Delhi
Phone: 91-11-27871018
Fax: 91-11-27871023
E-mail: mail@dce.edu
Web: http://dce.edu/

Contact Persons:

Prof P.B. Sharma
Vice Chancellor
011-27871018
pbsharma48[at]yahoo.co.in

Sh. U.k.wohrah
Registrar

N.S.Raghava
IT Head
nsraghava@dce.edu

Courses Offered:
B.Tech
M.Tech
M.Sc
Ph.D

About:


Delhi Technological University (DTU) was established in the year 1941 as Delhi Polytechnic, and was under the control of the Government of India. Earlier it was popular as Delhi college of Engineering. It is one of the most prominent engineering college in the country.DTU has assumed pivotal roles in the reconstruction, modernization, and administration of the society.

The efforts and expertise of DCE graduates have been major contributors in the planning and construction of India's infrastructure. DTU is an institution which defines and continues to update methods of engineering and architecture in India. It provides its students with modern educational facilities while retaining traditional values, as well as using its strong industrial contacts to mold young, talented individuals who can compete in the global arena. DTU was established with the motive to educate and excel the competence of individuals to be competitive not only in India, but all over the world.

Delhi Technological University offers courses towards Bachelor of Engineering (B.E.), Bachelor of Technology (B.Tech), Master of Engineering (M.E.), Master of Science (M.Sc.), Doctor of Philosophy (Ph.D.) and Master of Business Administration (M.B.A) and contains 14 academic departments with a strong emphasis on scientific and technological education and research.





Amar Ujala Results website aims to cater to the latest Board, University and Sarkari Naukri Results; along with the latest notifications, on Admit Card, Answer Key, Counselling dates and Career/ Exam Preparation tips. Register on Amar Ujala Results Website for fastest results on UP board, Uttarakhand board, Jharkhand board, Himachal Pradesh board, Haryana board, AP (Andhra Pradesh) board, WB (West Bengal) board, and Gujarat board exams.
© 2022-23 Amar Ujala Limited. All Rights Reserved.