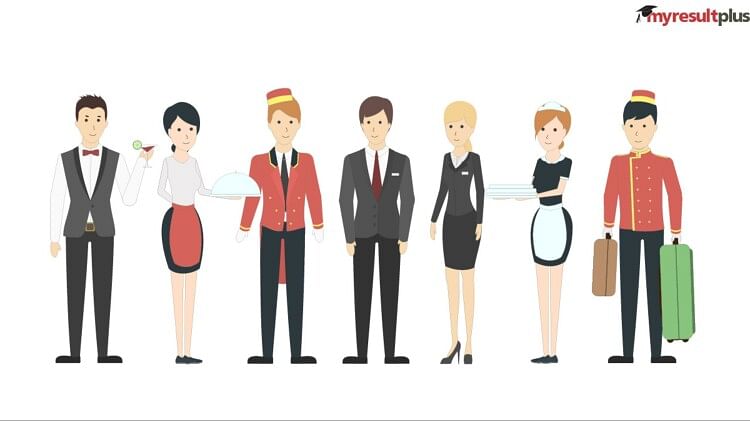 Career Options in Hospitality Industry: The hospitality sector offers numerous exciting opportunities and constantly introduces innovative ideas to remain successful in the market. In India, the hospitality industry is experiencing rapid growth and is regarded as one of the most promising sectors in the service industry.
As this sector continues to expand, there is a significant demand for professionals in various fields within hospitality. Let's explore the relevant fields one should consider pursuing in the hospitality industry.
Hotel Management
Hotel management encompasses the management of all aspects of a hotel's operations, including financial performance, guest services, housekeeping, food and beverage services, maintenance, and human resources. It entails coordinating the various departments within a hotel to ensure smooth and efficient functioning while upholding high standards of quality and customer satisfaction. Hotel managers have the responsibility of overseeing the day-to-day operations of the hotel, developing and implementing strategies to enhance the hotel's performance and profitability, and anticipating and responding to the evolving needs and preferences of guests.
 
Food and Beverage Management
Food and beverage management entails comprehending the structure, scope, and future of the catering industry. The catering industry is expansive and encompasses a variety of establishments, including restaurants, coffee shops, banquet halls, clubs, and multi-cuisine restaurants. Hotels have the largest number of outlets, followed by profit-oriented pubs. Cafes and takeaways rank fourth, while traditional restaurants hold the fifth position. Furthermore, there is a rising trend towards affordable and sought-after food options offered by fast-food outlets.
Event Management 
Event management encompasses the entire process of organising and maintaining an event, from the initial planning phase to post-event analysis. Event managers make crucial decisions regarding the event's time, location, theme, and logistics. They oversee the smooth operation of the event and address any issues that may arise. Event management involves various aspects of planning, including sourcing, design, compliance checks, and on-site coordination. It can encompass organising conferences, product launches, internal sales kick-offs, weddings, and more.
 
Travel and Tourism Industry 
The travel and tourism industry offers a range of job opportunities that involve interacting with clients and require communication, writing, critical reasoning, and presentation skills. Courses in this field cover various subjects such as communication skills, critical reasoning, tourism fundamentals, aviation management, hospitality, and more. These courses provide a comprehensive understanding of international tourism and can be highly beneficial for those interested in expanding their knowledge in this field.
Resort Management
Resort management professionals ensure that guests have a pleasant vacation or recreational experience while maintaining the smooth operation of the resort or lodging facility where they work. Responsibilities may include managing repairs and maintenance, advertising, cleanliness, employee relations, acquisitions, implementing safety measures, overseeing events, and ensuring the profitability of the resort. Formal training in resort management opens up career opportunities in areas such as conference planning, food and beverage management, front office management, general management, human resource management, and marketing management.
 
Hospitality Sales and Marketing
Marketing and sales play a crucial role in the hospitality industry, as they directly impact the profitability of a business. The marketing and sales team focuses on maximising a hotel's revenue by creating strategies and plans to increase income from various aspects of the business, such as room bookings, event spaces, leisure facilities, and restaurants. Professionals in this field may work in a specific hotel or at the corporate office of a hotel group with multiple properties. The job requires a diverse set of skills and demands success in a competitive environment.
 
Culinary Arts
Culinary arts involve the art of preparing, cooking, presenting, and serving food. Professionals in this field ensure that all senses are satisfied through the appealing appearance, visually pleasing presentation, appetising aroma, and enjoyable taste and texture of food. Culinary arts professionals utilise various tools and techniques to create the perfect dish, and their expertise extends beyond restaurants to various professions related to food preparation and presentation.
 
Hospitalities in Human Resources
Human Resource Management (HRM) involves managing people to improve their performance and behaviour, ultimately enhancing the overall effectiveness of an organisation. HRM assists managers in planning, recruiting, selecting, training, developing, compensating, and retaining employees. In the hotel industry, HRM aims to motivate individuals by helping them set personal goals, providing rewards, and guiding their behaviour in line with the organisation's objectives. Current trends in HRM emphasise boosting employee morale, implementing strategies for employee retention, and encouraging all members of the workforce to take on responsibilities within the organisation.
 
Casino and Gaming 
This sector includes careers in casino management, gaming operations, and entertainment. Job roles may involve overseeing gaming operations, guest services, and entertainment venues within a casino.
Cruise Ship and Airline Services 
These careers involve working in the hospitality departments of cruise ships or airlines, such as a cruise director, cabin crew member, or airline customer service representative.

(Written By: Avantika Rana)