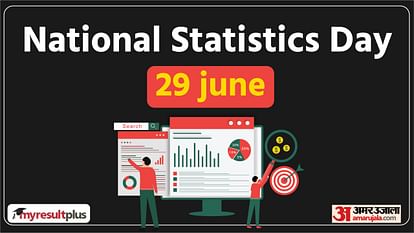 Every year, on June 29, National Statistics Day is celebrated to mark the birth anniversary of late Indian Scientist and Statistician Professor Prasanta Chandra Mahalanobis. In the post-independent era, Prof Mahalanobis played a significant role in strengthening the economic planning of India. He is among one of the founding pillars of New India. 
Prof Mahalanobis was also a member of the first Planning Commission of India, and in 1950 he played a crucial role in establishing the Indian Statistical Institute with a Statistical Laboratory setup. Later, He was awarded the 'Padma Vibhushan', among the most prestigious civilian awards in India.

National Statistics Day: History and Significance of this day 
To honour the immense contribution of Prof Prasanta Chandra Mahalanobis, the Government of India published of Notification in the Gazette of India on June 05, 2007. Since 2007, National Statistics Day has been celebrated in India to create public awareness, especially in the younger generation, for drawing inspiration from Professor (late) Mahalanobis about the role and importance of statistics in socio-economic planning and policy formulation.

This year, the National Statistics Day theme is 'Data for Sustainable Development', aiming to create awareness about the importance of data science and statistics in attaining the Sustainable Development Goal.
National Statistics Day: Career Opportunities in Statistic
According to globally renowned U.S. News and World Report Magazine, Statistics careers are often the most lucrative and accompanied by intense levels of job satisfaction and good work-life balance. 
In India, there is ample career opportunity in government and corporate sectors such as Indian Statistical Services, Indian Economic Services, business, industry, agriculture, computer science, scientific, health sciences & other disciplines.
Here is a list of 5 courses that you can opt for if you want to pursue a career in Statistics:
B.A. Statistics 
This three-year course is available at the undergraduate level. For admission in this course, it is necessary to pass class 12th.
B.Sc Statistics
This course is also a three-year undergraduate programme. For admission to this course, it is necessary to have Mathematics Science subject in class 12th.
M.A. Statistics
This postgraduate course is of two years duration. Students can take admission after graduation.
MSc Statistics
This postgraduate course is of two years duration. Undergraduates can be admitted into this course after B.Sc.
Master of Philosophy 
M.Phil course is dedicated to the student seeking Higher education from MA in Statistics or MSc Statistics can be taken in this.
National Statistics Day: Institute of Higher Education 
Indian Statistical Institute, New Delhi
Indian Statistical Institute, Vadodara
Indian Statistical Institute, Bangalore
Indian Statistical Institute, Kolkata
CR Rao Advanced Statistical Institute, Hyderabad