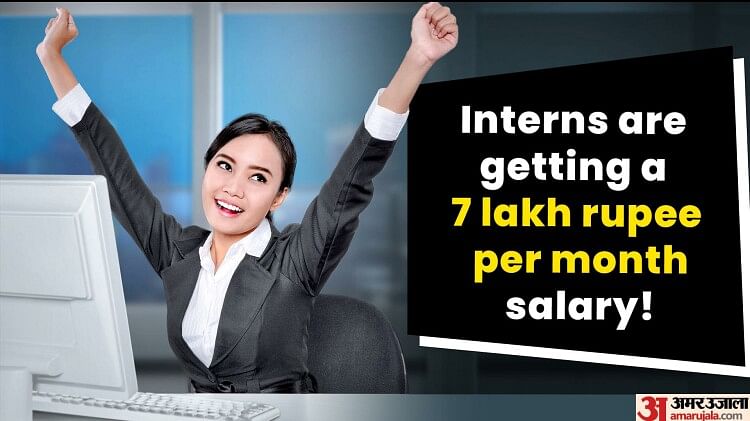 Salary of up to Rs 7 lakh Per Month to Interns: Glassdoor's recent report reveals that top US tech companies like Stripe, Roblox, Nvidia, and Coinbase offer monthly intern salaries of up to Rs 7.4 lakh, double the average salary in India.
Highly Paid Summer Internships: In most places in India, interns do not receive a salary. If available, the salary may be only 5-10,000 or 10-20,000 rupees per month. However, you might be surprised to learn that some interns receive salaries of lakhs of rupees even during their internships. Many tech companies pay their interns and trainees lakhs of rupees per month.

According to a recent report from Glassdoor, the highest-paying US internship pays more than double the average intern salary from last year. Fintech unicorn Stripe tops the list with an average monthly salary of $9,064 (around Rs 7.4 lakh). Video game developer Roblox Corp. follows closely behind, with an average salary of over $9,000 per month (around Rs 7.37 lakh) for temporary and entry-level positions.

These jobs are usually offered to college students and graduates, with an annual salary of approximately $108,000 (Rs 88.31 lakh) or around $56 per hour. The ranking was based on salary reports from current and former US-based interns on the platform over the past year.

Most of the companies offering high salaries for internships are tech companies like Meta, Snap, TikTok, Stripe, Coinbase, Amazon, and Microsoft. These include companies that have experienced mass layoffs in recent months. Other well-paying internships on Wall Street and in consulting include standout chipmakers like Nvidia Corp., financial firms like Capital One and JPMorgan, and advisory firms like MacKenzie and Bain & Company.
 
Here's the list of companies offering the top paid internships in 2023:
Stripe: $9,064 monthly (Rs 7.4 lakh per month)
Roblox: $9,017 monthly (Rs 7.4 lakh per month)
Nvidia: $8,280 monthly (Rs 6.7 lakh per month)
Coinbase: $8,206 monthly (Rs 6.7 lakh per month)
Meta: $8,160 monthly (Rs 6.6 lakh per month)
Capital One: $8,050 per month (Rs 6.6 lakh per month)
Credit Suisse: $7,947 monthly (Rs 6.5 lakh per month)
Bain & Company: $7,873 monthly (Rs 6.4 lakh per month)
Amazon: $7,809 monthly (Rs 6.4 lakh per month)
EY-Parthenon: $7,651 per month (Rs 6.2 lakh per month)
(Source: Glassdoor Report, The 25 highest-paying internships of 2023)
This report is particularly relevant given the impact many companies are currently having on summer internship programs. However, Glassdoor notes that it cannot guarantee whether all of these companies are still hiring interns for the summer session this year. Nevertheless, it is clear that these companies are known for offering competitive salaries to their interns.