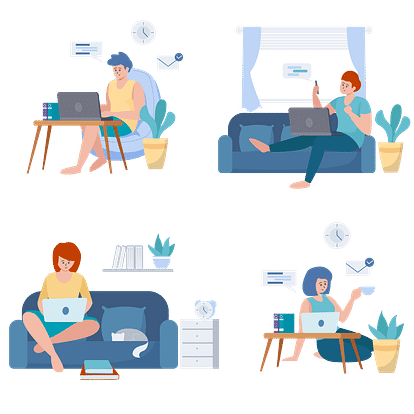 2022 has breezed in, and so have people's resolutions to enhance themselves on the career front. It is also the deciding year for the students of the 12th standard who are slated to progress in the direction of their desired career fields.
 However, in the present era, students often turn perplexed when it comes to deciding professional courses that would fall in line with their desired career field and lead them to the right path. The most prominent reason behind this is that numerous career fields have surfaced which are too much on a student's plate and they are unable to decide what to pick first, that too without the detailed knowledge of any of them. Additionally, students often fall prey to coercive parents who constantly push their child in the pit of their preferred career option. This acts as a major hindrance in the student's ability to explore different career opportunities and then decide the befitting one.
 Fortunately, the present era has a lot to offer to today's students who are aiming to drift apart from cliche streams such as Engineering and Medical sciences and looking forward to a bright and remunerative career in other fields.
 To cater to the same and pave the way for students to choose their preferred field, we have curated a list of some such newly surfaced career options which encompass lucrative job offers while keeping the students' interests intact. Let us take a look at some of them:  
1. Journalism and Mass Communication:
If you are a language aficionado, have a penchant for writing and desire to create a revolution in the world through your linguistic skills while simultaneously earning through the same, the field of Journalism and Mass Communication is the gateway for you to unleash your wings and get going high in the skies. Recently, a spike in the number of admissions has been observed in courses like Journalism and Mass Communication, which definitely will grow in the future as well. When the other industries came to a halt during the Covid-19 pandemic, the field of journalism and mass communication was the one constantly operating from ground and knew no bounds. Additionally, there are numerous job profiles that journalism and Mass Communication encompasses, among which, some of them are:
TV correspondent
Reporter
Radio jockey
News editor
Audio editor
Video editor
Photojournalist
Film director
Public relations officer
Art director
Producer
Screenwriter/Script-writer
 2.
Hotel management:
Fond of the lavish hotel-like lifestyle and being at people's beck and call? Well then, hotel management would serve the needful for you, right after you slide out of 12th standard. Various roles and responsibilities that hotel management entails are Front office operation, Accounting, Sales and marketing and food and beverage services. If you yearn for traveling often, this career field could be a boon for you, as other fields that involve frequent travelling will also open doors for you, which include Airline Catering and Cabin services, Cruise Ship hotel management, Hospitality services in Indian Navy, Hotel and Tourism associations and many more.  
3. Content writing:
Again a plus point for language aficionados, who are not planning to venture into Journalism and Mass Communication. This career option is the most befitting one for all those quill-bearers who want to work from the comfort of their home during these tough times. Working under this job profile demands no special educational degrees but only spectacular writing skills and involves writing for college websites, e-commerce websites, blogs and social networks etc. Also provides room to earn a quick buck merely by running your fingers on the keyboard.  
4. Fashion designing:
If you are a novice person with traces of creativity, urge for executing craft work, research skills, visualization of concepts and proficiency to grasp information, Fashion designing can help you mould yourself into a professional person with abundance of aforementioned traits and a handsome salary package as well. This is one career field which has witnessed tremendous enrollments during the bygone years and still the craze is ongoing. Although there are multiple technical intricacies and skills that fashion designing encompasses, the inherent creative traits of a person will also help them grow and flourish in this field. The world of fashion designing has the following jobs to offer to the budding ones:  
Fashion consultant
Textile designer
Style editor
Fashion illustrator
Quality analyst
Retail manager
Trend forecaster