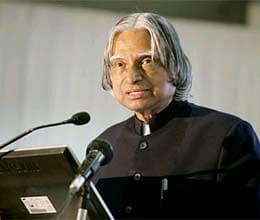 Former President A P J Abdul Kalam today called upon the youths to show their interest in the field of science and fix their target.Mr Kalam said this while expressing his views at the 20th
convocation of the Rashtriya Bal Vigyan.
During his interaction with the students, the former President asked them to come forward in the science sector and fix their objectives."Hard and dedicated efforts will clear all your hurdles,"he observed.
Later, he addressed farmers at a stadium and stressed upon the need for another Green Revolution.The farmers should also seek education to fetch better results, Mr Kalam noted.