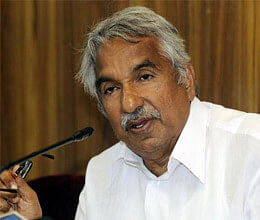 The life of mathematical genius Srinivasa Ramanujan is a lesson for every youth on how sheer determination can help overcome every obstacle and help one reach the pinnacle in their field of study, Kerala Chief Minister Oommen Chandy said here Wednesday, here.
"Ramanujan was a man who encountered unimaginable difficulties in his life and still triumphed. His devotion to mathematics and his contributions will continue to inspire generations of mathematicians to come," Chandy said while releasing the Malayalam translation of Robert Kanigel's biography The Man Who Knew Infinity: A Life of the Genius Ramanujan.
The book is a joint project of the Srinivasa Ramanujan Institute of Basic Sciences (SRIBS) - a capacity building initiative of the KSCSTE - and the State Institute of Languages, with the support of the Ramanujan Mathematical Society.
It was translated by professors P. Ramachandra Menon, T.M. Sankaran and J.W. Crystal Florey, and is the second translation of Kanigel's work in an Indian language.
KSCSTE and the Kerala Institute of Languages are collaborating to bring more such important works in science in Malayalam.