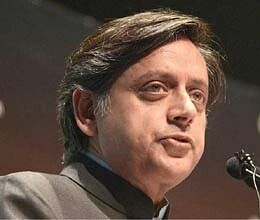 Nearly 22 lakh children in the country are yet to receive elementary education and it is the responsibility of state governments to bring them to schools, minister of state for HRD Shashi Tharoor said on Thursday.
"We are definitely anxious to catch the remaining 22 lakh children in our country who still are not in school. These are mainly tribal children, children of migrant workers and the begging children. These are students we need to catch and take them to the school," Tharoor said.
He was speaking at the launch of the Right to Education (RTE) anthem video. HRD minister M M Pallam Raju and Rajya Sabha MP Javed Akthar were also present on the occasion.
"It is the responsibility of the state governments to look out for them. Even if a migrant worker's child is in a place where the language is not of his family or the state, the child should acquire basic literacy. It is the responsibility of the state to get him into the school and not of the family," Tharoor said.
The lyrics of the RTE anthem has been written by lyricist Javed Akhtar while the song has been sung by noted singers Sonu Nigam and Sunidhi Chauhan.
The video also features Bollywood actors Ranbir Kapoor, Imran Khan, Katrina Kaif and Anushka Sharma. The video will be dubbed in English and 15 regional languages to generate awareness among the stakeholders for implementation of the RTE.
"The RTE came into existence in 2010 and since then it has showed remarkable success," said Raju. "The anthem and the video will help spread the message of RTE."
Under the RTE, it is obligatory on government and local authorities to provide elementary education to all children in the 6-14 age group.