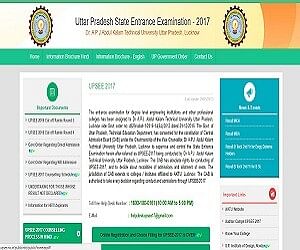 New Delhi
Dr A P J Abdul Kalam Technical University (AKTU) released the result for first round of seat allotment on Thursday, June 28, 2017.
While the first round registration payment of registration fee and uploading of document commenced on June 19 and continued till June 24, the first round online document verification at centralised verification center was held between June 20 and June 25.
However, the allotment will be done will be carried out on the basis of UPSEE 2017 ranks.
About Dr A.P.J. Abdul Kalam Technical University
The entrance examination for degree level engineering institutions and other professional colleges has been assigned to Dr APJ Abdul Kalam Technical University Uttar Pradesh, Lucknow vide Govt. order no. 4929/solah-1-2016-14(54)/2012 dated 21-12-2016.
Highlights
Computer Science Engineering- Opening Rank 23, Closing Rank 34965
Mechanical Engineering- Opening Rank 105, Closing Rank 34984
Electrical Engineering- Opening Rank 117, Closing Rank 34981
Electronics Engineering- Opening Rank 195, Closing Rank 31126
Information Technology- Opening Rank 211, Closing Rank 34966
Aeronautical Engineering- Opening Rank 238, Closing Rank 25785
Civil Engineering- Opening Rank 338, Closing Rank 34992
Manufacturing Engineering- Opening Rank 343, Closing Rank 24107
Chemical Engineering- Opening Rank 344, Closing Rank 34775
Electronics and Communication Engineering- Opening Rank 372, Closing Rank 34948