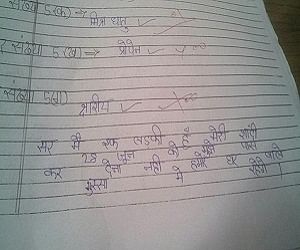 New Delhi
"Sir main ek ladki hoon. Meri shaadi June 28 ko hai. Mujhe pass kar dena nahi to ghar waale gusse mein rahenge (Sir, I'm a girl. I am getting married on June 28. Please allot me pass marks me otherwise my family will be upset)," read a girl's answer sheet who appeared for UP Board exam this year.
While the message in Hindi language pleaded the examiner, a few students had also attached currency notes of Rs 50-100 denominations along with their answer scripts.
"A Rs 100 note was attached with an answer sheet. And there was a message that said it was for refreshments," an examiner at a Government Inter College told Hindustan Times.
Following mass cheating reports during Uttar Pradesh (UP) Board exams, private tuition teachers across the are now under scanner.
While the class X UP Board English exam was cancelled last week, the question paper was reportedly circulated via Whatsapp.
According to reports, the 1,500 students were caught cheating during exam and UP board 600 invigilators have been replaced. The state government has started keeping track on invigilators.
UP Chief Minister Yogi Adityanath has instructed police officials to book private teachers who force students to take tuitions. The CM also conduced a meeting with state education department officials to find out solutions to stop mass cheating during board exam.
Image Courtesy: Hindustan Times