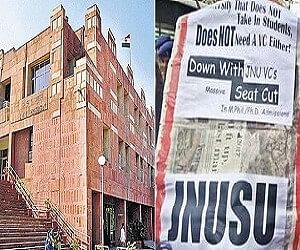 New Delhi
The Jawaharlal Nehru University Students' Union (JNUSU) has raised objection to the UGC 2016 Gazettte notification adopted by the university.
The JNUSU and Jawaharlal Nehru University Teachers' Association (JNUTA) have written to the President, who is the Visitor to the JNU, and pointed out that the notification adopted by the university is unconstitutional.
They alleged that it is in violation of the JNU Act as the administration has violated the statutes, ordinances, rules and established processes of the university in adopting the UGC notification as the minutes of the Academic Council meeting were falsified as none of the matters relating to the change of admission rules were discussed in the 142nd AC meeting of the University, reports The Hindu.
"Clause 5 of the Act says that the number of seats has to be fixed upon the date of coming into force of the Act, and cannot be reduced thereafter." JNUTA said. "Since JNU is a research university with an integrated M.Phil/PhD programme, to which the UGC regulation cannot be applied mechanically, the interpretation of the regulation in the light of the JNU Act and the CEI Act is necessary," he added.