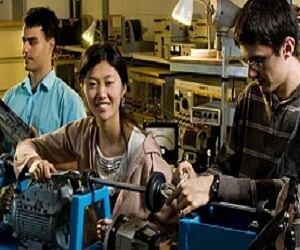 If you can afford to travel abroad for the study of engineering or technology, there are some finest engineering schools for you abroad. Some of the renowned engineering institutes across globe are as follows:
Massachusetts Institute of Technology (MIT)
This college is one of the world's top engineering institutes. This institute teaches various fields including modern computing and networking technology.
California Institute of Technology
Caltech, a premier institute in US, is known for its excellence in engineering course and is also known for the least student teacher ratio, as low as 3:1.
Stanford University
Stanford University is best known for innovative research in the field of engineering and technology.
Cambridge University
Cambridge University has conducted many notable studies and research initiatives in past.
Carnegie Mellon University
Carnegie Mellon University has 30 research centers in their own campus and is known for one of the best research projects.
Oxford University
Oxford University is the best place to pursue engineering. It offers a range of courses in engineering and technology.
Princeton University
This is yet another name in US which is known for the best class education and faculty.
Imperial college London
Imperial College London has students from more than 125 countries and they are enrolled in different fields of study like engineering, medicine, science and business.