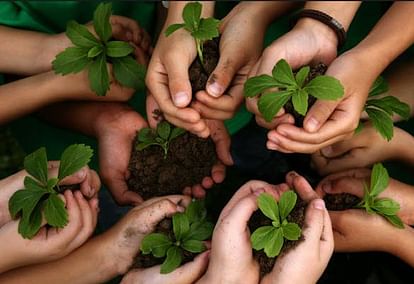 Students in Delhi schools would be made aware of environmental pollution and health hazards due to extensive bursting of fire crackers to make them the ambassadors of change to celebrate an eco-friendly and green Diwali, the Supreme Court was told today.
The Delhi government told the apex court that they have come out with a detailed action plan on sensitising children about ill-effects of pollution due to fire crackers so that a sense of responsibility could be developed among them and the school staff.
It said that Directorate of Education (DoE) of Delhi has come out with schemes to create awareness among children, staff members and the community to increase outreach of the campaign to save environment and people from hazardous effect emanating from bursting of crackers.
"All the activities are designed and scheduled to develop a sense of responsibility in students and staff members towards saving environment by being ambassadors of change and celebrating Diwali in innovative ways and to make it green and eco-friendly," the Delhi government said in its affidavit.
The court had on September 12 asked the DoE of Delhi and corresponding department in other states in national capital region (NCR) to educate school children on the health hazards and ill-effects of breathing polluted air, including air that is polluted due to fireworks.
The court's direction had come while temporarily lifting its November 11, 2016 order suspending permanent licences for sale of firecrackers in the Delhi-NCR.
The Delhi government has now informed the top court that they have issued circulars regarding this to all government, government-aided, unaided schools and similar directions have been issued to the Delhi Cantonment Board and all municipal authorities as well.
"Day wise activities on this scheme - like talks in assembly, diya making/painting, debates, skits, poster making, essay writing - to be undertaken by all schools and through eco clubs," it said.
It also said that circulars were issued to encourage and motivate school children to reduce bursting of crackers.
"It is also stated that prior to the implementation of the detailed 15 days action plan, circulars on similar lines were issued on August 24 and August 31...to sensitise students and staff members of all government and government-aided schools towards environmental pollution and health hazards respectively owing to extensive bursting of crackers, unsparingly detrimental to all," it said.
The government also said that in the coming week, appeal to the residents of Delhi from Lieutenant Governor in this regard, with a special focus on children, would be published in leading newspapers and would be circulated to all schools.
The apex court would tomorrow hear a plea seeking restoration of its last year's order banning firecrackers in the Delhi-NCR.