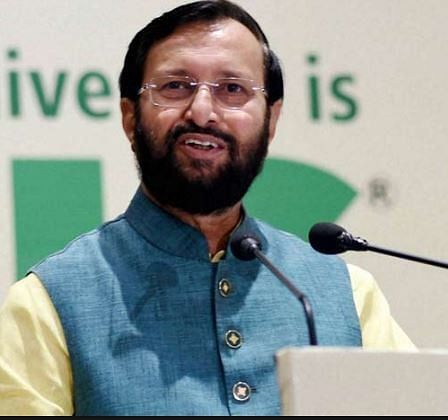 The Rajya Sabha today passed a bill, extending greater autonomy to the Indian Institutes of Management (IIMs) by restricting the government's role in their functioning and granting them power to award degrees to their graduates.
The Indian Institutes of Management Bill, 2017 -- which was passed in the Lok Sabha in July this year -- grants statutory powers to the IIMs in their running including the appointment of directors and faculty members.
The bill gives them powers to award degrees instead of postgraduate diplomas.
"The bill offers autonomy to these institutes. Through this bill we will remove all interference of the government, bureaucracy in the functioning of the IIMs. They will themselves decide how to manage and run these premier institutes," HRD Minister Prakash Javadekar said while initiating a discussion.
Replying to the debate, he said the rules would be framed soon and assured the Rajya Sabha members that their suggestions would be considered. The bill was passed by the Upper House unanimously.
The minister assured the House that no poor students would be denied admission in IIMs and said the government would bear the interest on the education loan.
He said the existing board of IIMs would continue but changes would be made to comply with the provisions of this bill related to representation of SC, ST and women in the board of governors.
Javadekar said that the government would withdraw its four representatives from the board.
Jairam Ramesh of the Congress earlier sought to know about the fate of the existing boards.
Justifying the autonomy for IIMs, Javadekar said, "This is new beginning...We must start believing in our best educational institutes."
He said the government was thinking of granting greater autonomy to best institutions. "Good institutions should have freedom," he added.
Seeking support from the opposition parties, he added that the bill seeks to bring about a positive change in the educational system in the country and hence should be supported wholeheartedly.
Congress member MV Rajeev Gowda, while supporting the bill, asked the government to ensure that the lack of resources do not come in the way of anybody who wishes to study in the IIMs.
While laying emphasis on identifying talent for the faculty positions, he also asked the government to ensure that SCs, STs and OBCs get scholarships and get admissions for doctoral programmes around the world.
"This initiative should be taken on a mission mode," Gowda said.
D Raja of the CPI said said the legislation should ensure academic freedom and end social discrimination. He also advocated more spending on education.
Naresh Agarwal (SP) said the educational syllabus should be uniform across the country and demanded that government investment on education be increased. He also said there should not be any politics in education.
AIADMK member N Gokulakrishnan, Nadimul Haque (TMC), Kahkashan Parveen of JD (U), Prasanna Acharya (BJD), K Somaprasad of CPI(M), Vijay Sai Reddy (YSRCP), Anil Desai (Shiv Sena) also participated in the debate.