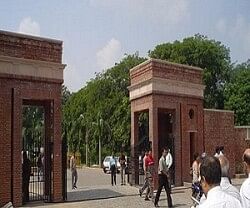 University of Delhi (DU) has invited applications for the project proposals for writing the History of the university (1922-2021).
The university was established in 1922 as a unitary, teaching and residential university by an act of the central legislative assembly. The president of India is the visitor, the vice president is the chancellor and the chief justice of the supreme court of India is the pro-chancellor of the university.
Interested candidates can log on to
http://historyofdu.du.ac.in/historyofdu.aspx
and submit their proposals by mentioning about details such as - title and other details of the best publication of the proposer, the scope of your project in 200 words; methodology going to be used for writing the history of the DU in 200 words); from where the materials is going to be taken in 200 words; proposed format of the history in 500 words, to name a few.
Initially, history will be published in the form of a book which will be made available in online and print format. Later, some other forms of publication will also be considered.
The deadline for the completion of the project is March 31, 2020. Some of the queries are answered at
http://historyofdu.du.ac.in/duhistory-faq.pdf
.
The University of Delhi invites project proposals for writing its history for one hundred years (1922 - 2021). The deadline for submitting the proposals is July 15, 2017.