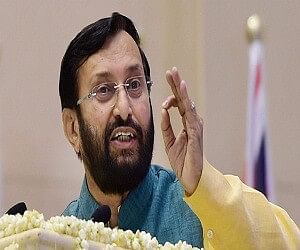 New Delhi
A delegation of JNU Teachers' Association (JNUTA) on Friday met HRD Minister Prakash Javadekar and apprised him about the situation that has arisen due to implementation of the UGC 2016 Gazette notification.
According to reports, the JNUTA members submitted a memorandum and said that the minister will reply within two weeks.
Protesting against seat cut in PhD/ Mphil courses, Jawaharlal Nehru University (JNU) students called for a total for a total university strike on Wednesday.
JNU Teachers's Association (JNUTA) president Ayesha Kidwai said that the total intake approved by the Academic Council was 1406 (including direct seats) but the the total intake as per the JNU e-prospectus was 194.
"Any dispute with regard to any matter relating to admission shall be subject to the jurisdiction of Delhi Courts only," read a note on JNU's official website.
JNU Students' Union pointed that the students reduction of seats is an attempt to shutdown JNU. The JNUSU and JNUTA had earlier written to the President Pranab Mukherjee, who is the Visitor to the JNU, and pointed out that the notification adopted by the university is unconstitutional.