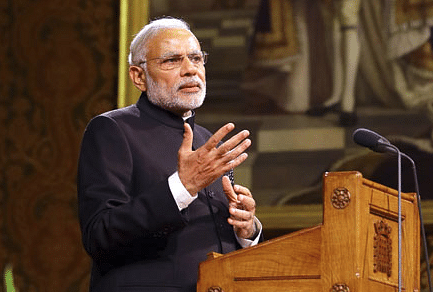 "Who you will be tomorrow begins with what you do today"
A thought written by Tim Fargo, an American author, reflects the strong image of our current Prime Minister Narendra Modi.
One of the most successful self-made leader and one of the most beloved Prime Minister of India.
 
He is known to be a person with a young mind and is also admired by young India.
Almost everyone knows about Narendra Modi and that he is even famous for his success story.
Recently according to a report of Twiplomacy study 2018 conducted by Burson- Marsteller, an international public relations and communications, Prime Minister Narendra Modi is the most followed world leader with 14.8 million followers.
His most liked photograph on the Instagram was a photograph of his meeting Virat Kohli and Anushka Sharma after their wedding.
Not only the most followed leader but also the second most liked photo of a world leader belonged to PM Narendra Modi.
It was a picture of him standing at a bus stop in a picturesque snowy Davos, where he attended the World Economic Forum 2018.
With every one of his 80 posts and videos from this year garnering 873,302 interactions on the photo- sharing app, PM Modi is also the most "effective' world leader on Instagram.
Down in the line second comes the President of Indonesia, Joko Widodo and third President of US, Donald Trump.
Some of the other Instagram accounts are ,the Royal Family of United Kingdom and Pope Francis, Queen Rania of Jordan that figure in the list of the ten most followed world leaders.
The most liked picture was, the photograph of Anushka Sharma and Virat Kohli calling on Modi after their wedding.
The study noticed " The picture has received 18,34,707 hearts which is not surprising as all three (PM Modi, Anushka Sharma,Virat Kohli) have a combined following of 55 million on the Instagram.
The most liked second photo by a world leader was also by PM Narendra Modi. The picture was of him standing at a bus stop in Davos ahead of the World Economics Forum 2018. The picture received a total of 16,35,978 likes.
Related Articles

on Career Diary