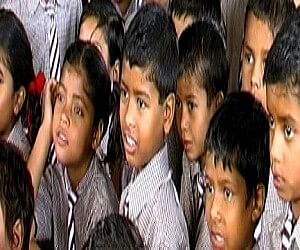 New Delhi
English language is a hurdle for more than 70 % of Government school students, claims a survey conducted by Ambedkar University Delhi (AUD).
"A total of 76 percent students from government schools face problems related to basic English language skills i.e. lack of vocabulary, grammatical problems, and problems in sentence formation and so on. On the other hand, students from private schools with academic jargon, complexity of ideas and lack of confidence among others," pointed the report of the survey conducted across 410 students doing their BA, MA, MPhil and PhD at AUD's Kashmere Gate campus by the Progressive and Democratic Student Community (PDSC).
While the survey was conducted between October and November last year, a group of secretaries on Education last month recommended to Prime Minister Narendra Modi that English should be taught in all secondary schools.
The 12-member group has also recommended that the policy of detention in schools be reintroduced.