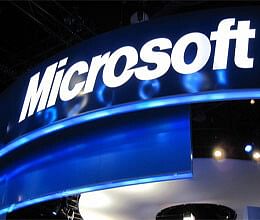 Microsoft Corporation (India) Pvt Ltd has launched the first of a planned 100 Microsoft Innovation Centers (MICs) that will impact the technology expertise of some 500,000 students.
The Indian centres, which will be at full strength in two years, "will impact over 500,000 students, certifying 100,000 students on Microsoft technologies", a Microsoft statement said.
"The program will also drive innovation and help build a product-based software economy by supporting product development, and over 500 start-ups.
"The MICs will act as innovation hubs at select colleges and technology institutes, providing incubation and expert hands-on support on Microsoft technology innovation, research, and software solutions, aiming to create a pool of student technology experts across India," the statement said.
Each MIC will function as a hub for five other neighboring colleges and will operate in a hub-spoke model driving employability, innovation, and entrepreneurship in the academic ecosystem around it.
Fourteen MICs have initially been launched by signing MoUs with leading academic institutions across four states. They will be located in Hyderabad, Vijayawada, Rajahmundry, Khammam, Bapatla, Guntur, Tirupati, Raipur, Bhopal, Trichy, Vellore, Coimbatore, Madurai and Salem.
This is part of a worldwide programme that currently has 75 MICs.
Commenting on the launch of MICs in India, Joseph Landes, General Manager, DPE, Microsoft India, said they "are designed to offer a unique environment conducive for student entrepreneurship. As knowledge and innovation become primary catalysts for economic growth in India, the Microsoft Innovation Centers can play a vital role in generating powerful new ideas through training, education and knowledge transfer."
The MIC program, the statement said, "will act as the key driver of Microsoft's vision for developing new talent in India at the student level. Budding developers will be encouraged to innovate across key priority technology focus areas that are driving growth and change for the economy, namely: Mobility (Windows Phone), Cloud (Windows Azure), Kinect, Accessibility, Healthcare and a wider ambit for solving problems with an India focus".
Expressing his vision for MICs at his institution, G. Viswanathan, founder and chancellor, VIT University, Vellore, said: "Innovation is an intrinsic part of the philosophy we live here at VIT University, which was established with the aim of providing quality higher education on par with international standards".
"Our students have been actively involved in the Imagine Cup - another great program from Microsoft that fosters innovation among students to address key global challenges," Viswanathan added.
The MIC announcement comes days after the India launch of Microsoft's new global philanthropy initiative - YouthSpark-aimed at addressing the opportunity divide faced by the young people of the world.
"In particular, MICs will play a crucial role in deepening the relationship between academia and industry, enhancing at a very basic level, employability and education, reducing the digital divide, support for innovation and driving sustainable socio-economic impact," the statement said.