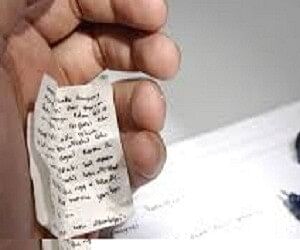 New Delhi
Following mass cheating reports during board exam, Uttar Pradesh Deputy Chief Minister Dinesh Sharma has said strict action will be taken against culprits.
"Strict action to be taken against nakal mafia," said Sharma, referring to the mass cheating reports from two centres in Mathura.
While the class X English exam was cancelled on Monday, the question paper was reportedly circulated via Whatsaap. "The cheating nexus needs to be eradicated," Sharma.
Read:
Mass Cheating: UP Board launches Whatsapp Number for complaints
In a bid to prevent students using unfair means during board exam, the Uttar Pradesh Board has launched Whatsapp Number (9454457241) for registering complaints to prevent students.