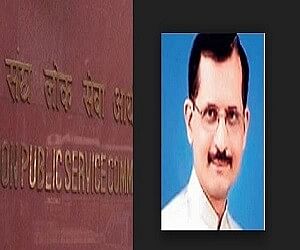 New Delhi
Manoj Soni, Gujarat-based educationist and former Vice Chancellor of Dr Babasaheb Ambedkar Open University, took charge as member in the Union Public Service Commission (UPSC) on Wednesday. He was administered oath by the UPSC Chairman Professor David R. Syiemlieh.
Manoj, the youngest Vice Chancellor since independence, will hold the office for a term of six years. He was the former vice-chancellor and an alumnus of the Maharaja Sayajirao University (MSU) of Baroda. He is also the recipient of 'Honorary Mayor-President of the City of Baton Rouge' awarded by World Education Congress Global Award for distance learning leadership and Mayor-President of Baton Rouge, USA.

About UPSC
UPSC is a constitutional body that conducts the civil services examination. It has been established under Article 315 of the Constitution and consists of a Chairman and ten Members, who are appointed and removed by President. The chairman and members of the Commission hold office for a term of six years or until they attain the age of 65 years, whichever is earlier. Article 316 of the Constitution deals with the appointment and term of office of members.