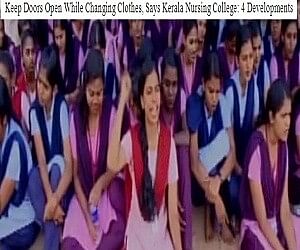 New Delhi
With Kerala's Upasana College of Nursing (UCN) instructing female not to lock doors even whey are changing clothes, My Result Plus traced four developments of the report doing the rounds on social media.  
1.      Students demand resignation of UCN principal M P Jessykutty.
2.      College authority says that decision was taken to stop students indulging in homosexual activities.
3.      Female students pointed out that college management has been suffocating them with ridiculous rules heavy fines.
4.      The College has been closed over a week in the wake of protest by students.
Why female students asked to keep the doors open while changing clothes?
The college authority said that the decision was taken to stop lesbian activities behind closed doors in college premises. The college has reportedly issued a directive asking students not to lock door of their rooms while changing clothes as they might use their cell phones or get involved in homo sexual activities.
Present scenario:
Protesting against the situation, the students staged demonstration in Kollam against college authority on Tuesday.
About Upasana College of Nursing:
Upasana College of Nursing or UCN is situated in Kollam and affiliated to University of Kerala. The college, recognized by Government of Kerala, India Nursing Council and Kerala Nurses and Midwives Council, offer courses in Nursing.