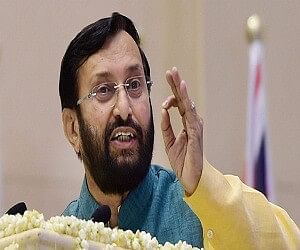 New Delhi
HRD Minister Prakash Javadekar on Tuesday said that Jawaharlal Nehru University won the Visitor's Award for best central university because of quality work and not for slogans in praise of Parliament attack convict Afzal Guru.
While President Pranab Mukherjee presented the award to JNU at Rashtrapati Bhawan on March 6, 2017, central universities such as Aligarh Muslim University, Banaras Hindu University, Jamia Millia Islamia and Central University of Rajasthan gave their respective nomination for the best university category.
Javadekar's remark comes during a debate on a bill on the national importance. He was responding to Congress leader Mallikarjun Kharge.
Dr. Deepak Pant from Central University of Himachal Pradesh bagged the Visitor's Award for Innovation. Visitor's Awards for Research has been jointly won by Dr. Shyam Sunder from Banaras Hindus University and Professor Niranjan Karak from Tezpur University.
About JNU
Jawaharlal Nehru University is a public central university in the national capital. In 2012, the National Assessment and Accreditation Council gave the university a grade of 3.9 out of 4, the highest grade awarded to any educational institution in India.