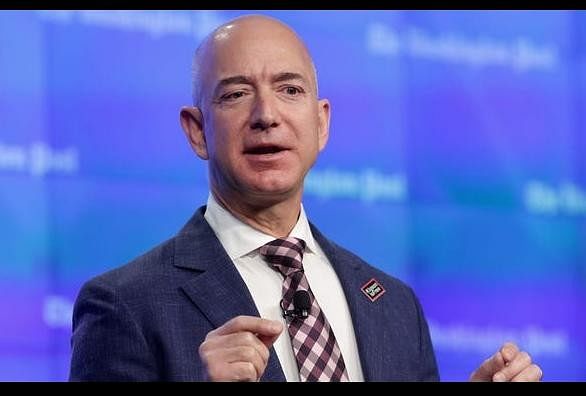 Jeff Bezos, founder and CEO of Amazon, the world's largest e-commerce company, visited India last week on January 15, 2020, on a three-day tour.
During his visit to India, he had participated in the 'Sambhav' program organized by Amazon on January 15-16. During his tour, he met many celebrities from the film and industry including Prime Minister Narendra Modi. He reviewed all of Amazon's ongoing operations in India as well as discussed on new plans.
The day from selling books for livelihood to the day of becoming the richest person, Jeffrey Preston Bezos or Jeff Bezos success story is an inspiration for all youngsters. Amazon CEO Jeff Bezos proved that with hard work and dedication a person can turn impossible into possible. 
Today, this success story of the founder, chief executive officer, and president of Amazon will inspire you, how to turn dreams into reality.
Jeff Bezos may be the richest man in the world today, but there was a time in his life when he was going through poverty. Jeff Bezos was born on January 12, 1964. His parents divorced when he was 4 years old. The financial condition of his family was not good at that time. 
Jeff Bezos studied electrical engineering and computer science at Princeton University.
Jeff Bezos is known as the CEO of Amazon, but very few people know that Jeff worked at Macdonald's, Intel, Bell Labs, and Andersen Consulting, among others. In late 1993, Bezos decided to establish an online bookstore. He left his job at D. E. Shaw and founded Amazon in his garage.
In 1994, Jeff designed the Amazon company's business plan on a cross-country drive from New York City to Seattle. Jeff initially named his new company 'Cadabra' but later changed the name to 'Amazon'. 
Jeff's hard work and dedication proved that if there is a strong will, no work is impossible. Jeff's company has several records to his name today. Jeff received his first major award in 1999 when Time named him Person of the Year. As he was first included on the Forbes World's Billionaires list with a registered net worth of $10.1 billion.
A media reports say, when it was being asked to Jeff Bezos for simple business advice, Jeff Bezos said, "You'll be competing against those who are passionate... You have to be a missionary, not a mercenary. And, paradoxically, the missionaries end up making more money."
According to Jeff Bezos, People who are right a lot listen a lot, and they change their mind a lot.