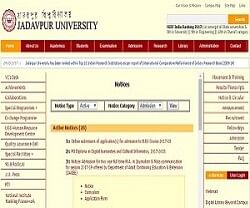 New Delhi
Good news for students who wish to pursue career in media. The Jadavpur University (JU) is all set to start an MA course in Journalism and Mass Communication from this academic session.
"We have plans to collaborate with Press Club Kolkata to organise hands on workshop and training programmes for students to help them get field experience. Students will be awarded Participation Certificates jointly by the university and Press Club Kolkata. This is the unique feature of the MA course which will be a fine blending of theory and practice," JU Vice-chancellor Suranjan DasProfessor Das said.
While the admission for two year full time M.A. in Journalism & Mass communication for session 2017-19 will be offered by Department of Adult Continuing Education & Extension (DACEE), the course is expected to begin by July. There are only 40 seats.
Simple steps to apply:
Step 1: Log onto www.jaduniv.edu.in.
Step 2: Go to the Active Notices section.
Step 3: Click on Notice: Admission for two year full time M.A. in Journalism & Mass communication option.
Step 4: Fill up the application form. Last date of submission of duly
filled in Application From at DACEE in person or by Post on or before 9.6.2017 along with a Demand Draft of Rs. 100/- (preferably from S.B.I.) in favour of 'Jadavpur University' payable at Kolkata.
Eligibility: 3-Year B.A. Honours degree from a recognised University with at least 50% marks (45% for PD/Sports/ OBC-A/OBC-B category and 40% for SC/ST category) in Honours/Major papers. (In case Honours/Major is NOT specified/ mentioned in the mark-sheet for the BA Degree of an applicant, then he/she will NOT be eligible.)
Course Fee Rs. 60,000/. (Rs. 30,000/- per year).
Admission Test (written): 19.6.2017 at 2 P.M. at Jadavpur University.
About Jadavpur University
Jadavpur University is a public state university located in Kolkata, West Bengal, India. It has two campuses, the main campus at Jadavpur and the new campus at Salt Lake. It was upgraded to a full-fledged university in 1955. The University has its origin in the erstwhile National Council of Education. Jadavpur University has been ranked within Top 10 Indian Research Institutions as per report of International Comparative Performance of India's Research Base.
Address: Prayukti Bhawan, 188, Raja Subodh Chandra Mallick Road, Jadavpur University Campus Area, Jadavpur, Kolkata, West Bengal 700032
Phone: 033 2414 6666
Founded: 24 December 1955
Total enrollment: 9,000 (2011)
Motto: To Know Is To Grow
Vice-chancellor: Suranjan Das