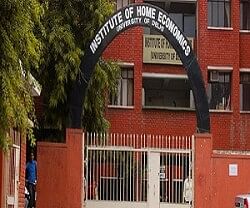 New Delhi
The Institute of Home Economics (IHE) is all set to offer a BA (Hons) Journalism course in the next academic session.
"The department already has faculty members from varied fields of development communication, journalism and mass communication with experience in working with print and electronic media," Savita Aggarwal, head of the department, Institute of Home Economics, as quoted by the
Education Times.
However, Delhi University first cut offs for Institute of Home Economics was published on 24 June 2017. After declaration of the Delhi University Admission Cut Off List by the University, the candidate will need to report to the college of his / her choice as per the Schedule of DU Admission.
At this stage, the candidate would be required to fill the college form and the University enrolment form. The candidate would then get his/her documents verified, submit the same to the college and pay the fees.
About Institute of Home Economics
The Institute of Home Economics is a college of the University of Delhi. Located in South Delhi, the institute offers both Undergraduate and Postgraduate programmes. The college has state-of-the-art infrastructure, computerised library services, fully automated and integrated academic and administrative operations, intranet and Internet facilities available to the students.