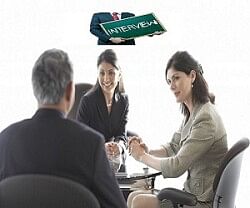 In a bid to get a position for himself/herself in college or a company, student and working professionals needs to go through the stage of interview.
You must prepare yourself in advance ahead of a scheduled interview. Some tips on how to prepare for an interview are mentioned below:
Work on language
To pass an interview, the candidate should have a good communication skill. One must speak and write everyday. This improves the fluency of the language and removes the hesitation of speaking.

Keep the stress away
Most of the students or professionals get rejected in the interview because they are nervous to speak due to stress. One should remember that its not a war and it is just an interview where you have to answer what you know.
Expected questionnaire
It is advisable that you make a list of the questions you think might be asked to you. The questions like introduce yourself, past work experience, educational background, family background, strengths, weaknesses, hobbies, achievements, and subject related questions are common and are always asked. You must be ready for all these.
Grooming
Pay an equal attention to personal grooming. Men should keep their hair and nails short. Keep the clean formal outfit ready to be worn on the interview day. Keep the moustache and beard trimmed. In a nutshell, you should look neat and tidy.