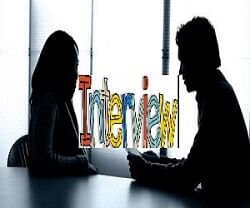 One should prepare well before the interview. It is necessary to be professional and confident. Have an interview scheduled. Here are the tips on how to face an interview:
Reach Early
Always reach 20 minutes before the time of the interview. You can use these 20 minutes in relaxing yourself and
revising things in your mind.
Enter with a smile
As you enter the room, ask for their permission with a smile. Greet them well and get seated comfortably.
Your belongings
You must keep your belongings like documents, files, or bag on the empty chair next to you or on your lap. Do not
put it on the table.
Prepare well
Before going, prepare yourself well with the obvious questions often asked in the interview like strengths,
weaknesses, achievements, your background, etc. The questions may also be technical which will be related to
your educational or work experience background.
Concentrate on your achievements
Use every opportunity to talk about your achievements. Talk about the instances when you were able to bring
laurels for your college or your previous workplace.
Be Crisp
The panel has a limited time. Frame your answers in such a way that you take lesser time to give them a suitable
and relevant answer.
Thank you
Do not forget to say "Thanks" before moving out of the room.