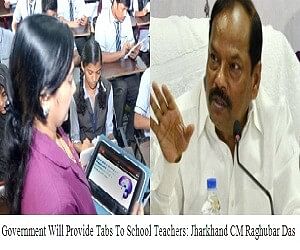 New Delhi
In a bid to provide quality education, Jharkhand government is all set to provide tabs to all teachers across the state.
"Tabs will be provide give to every school during the 2017-18 fiscal year to bring teachers and students up to date with the changing times," said Chief Minister Raghubar Das on the sidelines of a release of children's magazine Pankh.
The CM pointed out that recruitment process of 18,000 teachers is underway. He also reiterated that state government would also install biometric system in schools to ensure teacher's regular attendance.
Meanwhile, HRD Minister Prakash Javadekar said that 205 teachers' posts in the higher educational institutions are still vacant.
"Vacancies in higher education institutions is a serious problem. Around 20% posts in central universities are currently vacant," the minister said during Question Hour.
He reiterated that teachers can be re-employed on contract appointment beyond the age of 65 years and upto 70 years, subject to availability of vacant positions and fitness.
In February, Canara Bank signed a memorandum with HRD Ministry in order to operationalise the Higher Education Financing Agency (HEFA).