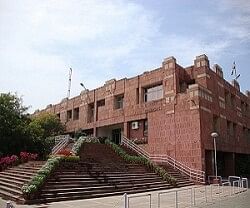 New Delhi
Following the launch of Goods and Services Tax on July 1, the Jawaharlal Nehru University (JNU) will now impose the GST for renting out its guest houses.
"Since July 1, JNU migrated to GST and has its own GST Identification Number (GSTIN) and there are no issues with its implementation," JNU Joint Registrar (Finance), Shankar Dhar told PTI.
While the varsity has three guest houses - Aravali Guest House, Aravali International Guest House and Gomti Guest House, a JNU circular pointed out that there will be no GST for renting of guest houses, campus sites or other commercial places meant for residential or lodging purposes.
About Jawaharlal Nehru University
In the early 1970s, when Jawaharlal Nehru University opened its doors to teachers and students, frontier disciplines and new perspectives on old disciplines were brought to the Indian university system.
The very Nehruvian objectives embedded in the founding of the University, national integration, social justice, secularism, the democratic way of life, international understanding and scientific approach to the problems of society had built into it constant and energetic endeavour to renew knowledge through self-questioning.