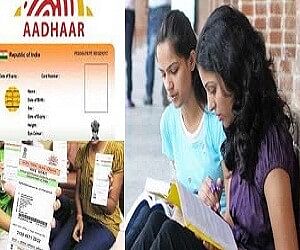 New Delhi
In a bid to stop fake enrolments, Uttar Pradesh Board Of Secondary Education is all set to make Aadhaar number compulsory for students appearing for exam.
Not only this, all students at the time of registration for class IX will have to display the Aadhaar card, reports The Times of India.
"The government wants to link students with Aadhaar so that each students has an individual identity and fraudulent registrations for class IX and XII and dubious filling of forms for classes X and XII can be curbed," UPBSE secretary Shail Yadav said.
UP Board had also decided that students below 14 and above 18 years of age will not be allowed to appear for high school (class 10) examination as regular candidates.
The report comes a month after the has sent a proposal to the government to widen existing yoga syllabus.
"We have sent a proposal to the state government for expanding the study of yoga further for students of classes IX to XII," Yadav had earlier said.