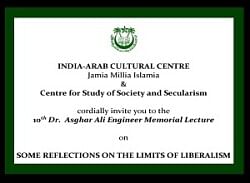 Internationally known scholar of Philosophy, Akeel Bilgrami of Columbia University, New York will deliver the 10th Dr Asghar Ali Engineer Memorial Lecture organised by Jamia Millia Islamia (JMI)'s India-Arab Cultural Centre.
The memorial lecture is in collaboration with Centre for Study of Society and Secularism (CSSS) on December 08, 2017, at 10:30 am, at the Conference Room, India-Arab Cultural Centre, JMI.
Bilgrami will deliver the lecture titled, 'Some Reflections on the Limits of Liberalism'. Talat Ahmad, Vice Chancellor, JMI shall chair the event and give the inaugural remarks.
CSSS, a non-profit organisation in Mumbai, founded by the reputed Islamic scholar, Dr Asghar Ali Engineer works for communal harmony and peace.
CSSS in the past has in collaboration with JMI organised two Dr Asghar Ali Engineer memorial lectures which were delivered by prominent scholars, Romila Thapar and Dietrich Reetz.
Dr Engineer's seminal works include his contributions on rights of Muslim women in Quran, liberal Islam and secular movement in India. CSSS is taking forward his legacy and vision of a just society.
Professor Akeel Bilgrami is Sidney Morgenbesser Professor of Philosophy at Columbia University. He went to Oxford University as a Rhodes Scholar.
He has a PhD from the University of Chicago. He joined the Department in 1985 after spending two years as an Assistant Professor at the University of Michigan, Ann Arbor.
Professor Bilgrami has two relatively independent sets of intellectual interests -- in the Philosophy of Mind and Language, and in Political Philosophy and Moral Psychology especially, as they surface in politics, political economy, history, and culture.
In the former, he has published a book in 1992 called Belief and Meaning (Blackwell) and another book published in 2006 called Self Knowledge and Resentment (Harvard University Press).
His book, secularism, identity, and enchantment was published by Harvard University Press in 2014. He is also the editor of the books, Democratic Culture (2011), who's Afraid of Academic Freedom? – With Jonathan Cole (2014), Marx, Gandhi, and Modernity (2014), and Beyond the Secular West (2016).
He teaches courses and seminars regularly in the department on Philosophy of Mind and Language as well as Moral Psychology, Meta-Ethics, and Political Philosophy.
Related Articles

on Career Diary