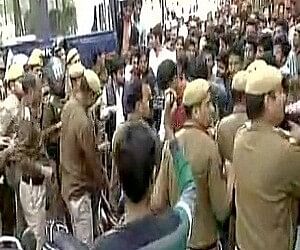 New Delhi
Scuffle broke out between AISA and ABVP students over cancellation of JNU student Umar Khalid's talk at Ramjas College in the national capital on Wednesday.
While the seminar was organised by the College's English department,
ABVP activists shouted slogans demaned Khalid's should not participate in the seminar.

"We had been preparing for the annual seminar for the past three-four months. We had permission from the principal. A few minutes before Khalid was supposed to reach, the ruckus at the gates started. We were initially assured by ABVP members in college that the protest would be peaceful." said Professor Vinita Chandra.


Image Courtesy: ANI