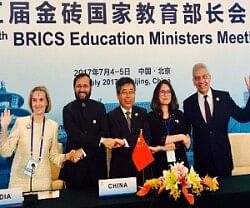 Following is the text of Beijing Declaration on Education adopted in the 5th Meeting of BRICS Ministers of Education in Beijing, China, on July 5, 2017.
The ministers discussed education reforms, approaches to promoting equity in education and fostering quality education, strengthening BRICS collaboration in the field of education, and exchange of students and scholars and teaching faculty among BRICS Member States.
Prakash Javadekar, Union Minister for Human Resource Development, represented India at the 5th BRICS education ministers meeting.
The members stated that they face the common challenges in promoting educational equity, accessibility and even the challenges in improving the quality of education, according to the statement issued by MHRD.
Considering that higher education contributes to the development of high-level human resources and intellectual support for the economic and social development, studies of BRICS Member States will enhance the mutual understanding between each member state, and distinguished that the mobility of faculty and students, and sharing of information among the member states is importance for the implementation of the consensus arrived at the meeting of BRICS Ministers of Education.
The third BRICS NU Annual Conference is going to be held in 2018, in Cape Town, South Africa and in the BRICS Global Business and Innovation Conference to be held in September 2017, in St. Petersburg, Russia.