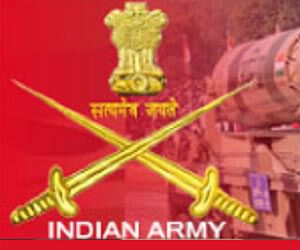 Army on Wednesday announced that it is compulsory for the aspirants, seeking jobs in the armed forces, to register online in a bid to tackle huge crowd at its recruitment rallies.
Director General Recruitment, Lt Gen R N Nair, on Wednesday announced the launch of the new facility available on the Army's recruitment website - joinindianarmy.nic.in.
"Sometimes aspirants come to these rallies in huge numbers due to which we have to lathicharge or use other methods to disperse them and control the situation," he said during the raising of Selection Centre North in Kapurthala here on Wednesday.
"To handle this problem, army has decided to let the aspirants first register themselves online following which only the eligible candidates would be called for the recruitment rallies on different dates in limited numbers," he said.

MORE FROM JOBS :
TCS to hire 60,000 employees this fiscal, says Mistry

Army today launched the service on the website which received 40,000 hits within last 24 hours, he said.
Refuting that enrolment from Punjab has decreased, Nair said that recruitment from the state is increasing every year and its contribution is more than the Recruitable Male Population (RMP) of the state.