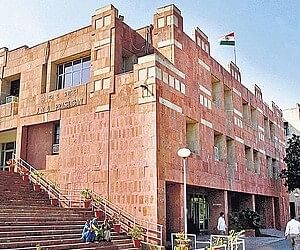 New Delhi
The Jawaharlal Nehru University administration has registered an FIR against five students on charges of
stealing CCTV cameras from the campus.
"On March 31, a complaint was reeceived from JNU's chief security officer. He alleged that when administration was getting CCTV cameras installed at the hostel entrance, JNUSU president Mohit Pandey - along with others - manhandled workers, threatened them and took away the camera. Based on the complaint, an FIR was lodged at Vasant Kunj (north) police station," said Additional DCP (south) Chimoy Biswal.
While JNUSU general secretary Satarupa Chakraborty said that the CCTVs were installed without informing the hostel authority, JNU Teachers's Association had earlier protested against seat cut in PhD/ Mphil courses. The students called for a total for a total univeristy strike last week.
JNUTA president Ayesha Kidwai said that the total intake approved by the Academic Council was 1406 (including direct seats) but the the total intake as per the JNU e-prospectus was 194.