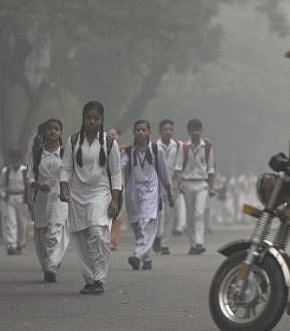 The Delhi government today announced that all schools in the national capital will remain closed till Sunday in view of the "unbearable" air pollution.
The air quality in Delhi is turning worse, Deputy Chief Minister Manish Sisodia said.
"Can't compromise with the health of children. All schools including private and government will remain closed till Sunday for all the classes," Sisodia said in a series of tweets.
The government had yesterday directed that primary schools would be closed today. It had also ordered suspension of outdoor activities for secondary classes.
The decision came after the Air Quality Index (AQI) touched 448 in a scale of 500, entering 'severe' category.
Today, the AQI was worse at 484.
"The air pollution has become unbearable affecting all.
It has engulfed the city. The reasons for this may be varied from stubble burning in Haryana and Punjab to vehicular/ construction pollution but the fact remains that it is affecting the health of Delhi's citizens," an official order from Sisodia's office said today.
"The situation shall be reviewed on Sunday," it added.