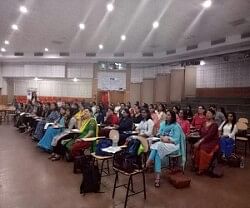 The Embassy of France and Institut francais India participated in an all-day training for 68 teachers of French language organised by Indian Association of Teachers of French (IATF).
The one-day workshop was titled as 'Revisiter le programme d'études de langue française de CBSE :enjeux et nouvelles perspectives' (Revisiting the CBSE French Language Curriculum : Stakes and New Perspectives).
Sessions were conducted by Caroline Schmitt, Attachée for Cooperation in French Language, Embassy of France, Kiran Chaudhry of Jawaharlal Nehru University, Anuradha Karkun President (North Zone) IATF and Balvinder Kaur Bindra, Committee Member (North Zone) IATF.
French teachers also highlighted the various challenges they faced, especially in view of the recent changes proposed by CBSE (in evaluation structure, language policy).
The French Embassy in India and Institut francais India express their support to principals, teachers, the Association of Teachers of French, and universities that are convinced that global education is an asset for their students, encouraging them to become strong, smart citizens of the future.