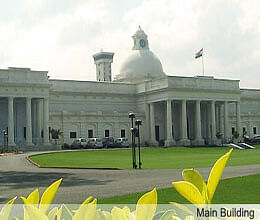 Thomso, a three-day cultural festival, organised by the Indian Institute of Technology (IIT) Roorkee and highlighting the theme "Live Free, Die Hard", concluded Sunday.
The event, held after three years, witnessed the participation of around 400 colleges across the country.
IIT Roorkee was earlier known as the Thomason College of Civil Engineering and the cultural fest Thomso is named after it.
Director of the institution Pradipta Banerji said: "We had stopped organising the fest, but now afer three years we have tried to make it bigger and better.
"The theme of the event this year is 'Live Free, Die Hard' in mind. All our programmes and activities resonate through this theme which comes alive with demonstrations and vivid performances put up by our students," he added
The event organised and managed by students held workshops on personality development, fine arts, art theatre, gaming competition, laser tag competition and also various literary events.
Actor and director Farhan Akhtar and comedian Ehsan Qureshi also attended the event, said convenor of the students organising committee Anirudh Yadav.