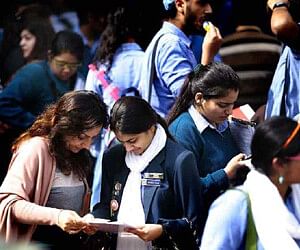 The Board of Secondary Education, Madhya Pradesh has released the date sheet for class 10 and class 12 Board Examination 2016. 
Date Sheet of Class 12 & 10 is mentioned below. 
The date sheet is also available on the website of the Madhya Pradesh Board. 
The 12 Board examination 2016 is going to start from March 1 and will continue till April 5, 2016. The class 10 Board examinations 2016 will start from March 2 and will end on March 29, 2016.
Date Sheet of Class 12 & 10 is given below:
Class 12
March 1: Special Language Hindi
March 3: Special Language English
March 4: Special Language Sanskrit
March 5: Second Language (General): Hindi, English, Sanskrit, Marathi, Urdu, Punjabi, Sindhi, Bengali, Gujarati, Telugu, Tamil, Malayalam, Arabic, Persian, French, Russian, Kannad & Oriya.
March 9: Higher Mathematics
March 14: Book-Keeping & Accountancy
March 15: Drawing & Designing
March 16: History, Physics, Business Studies, Elementary of Science & Mathematics Useful of Agriculture, Drawing & Painting, Home Management, Nutrition & Textile
March 19: Political Science, Animal Husbandry Milk trade, Pollutary Farming & Fishery, Element of Science, History of Indian Art, Business Economics
March 21: Geography, Chemistry, Crop. Production & Horticulture, Still Life & Design, Anotomy Physiology & Health, VOC
March 29: Informatics Practices
March 30: Sociology, Psychology, Agriculture(Humanities Group), Home Science (Art Group) Foundation Course, Environmental Education and Rural Development + Entrepreneurship (VOC) Special Language Urdu
March 31: Special Language Urdu
April 1: Special Language Marathi
April 4: Language Special: Punjabi, Sindhi, Sindhi, Bengali, Gujarati, Telugu, Tamil, Malayalam & Kannad
Class 10:
March 2: THIRD LANGUAGE (General) :- Sanskrit, Urdu, Marathi, Bengali, Gujarati, Telugu, Tamil, Punjabi, Sindhi Malayalam, Persian, Arabic, French, Russian, Kannad & Oriya
March 4: Painting (Only for Deaf & Dumb Students)
Music (Only for blind students)
March 15: First Language (Special):- Hindi, English, Sanskrit, Urdu, Marathi,Bengali, Gujarati, Telugu, Tamil, Punjabi, Sindhi, Malayalam, Kannad & Oriya
March 22: Second & Third Language (General) English
March 26: Second & Third Language (General) Hindi
March 29: National Vocational Education Quality Framework (NVEQF) IT/ITES VOC