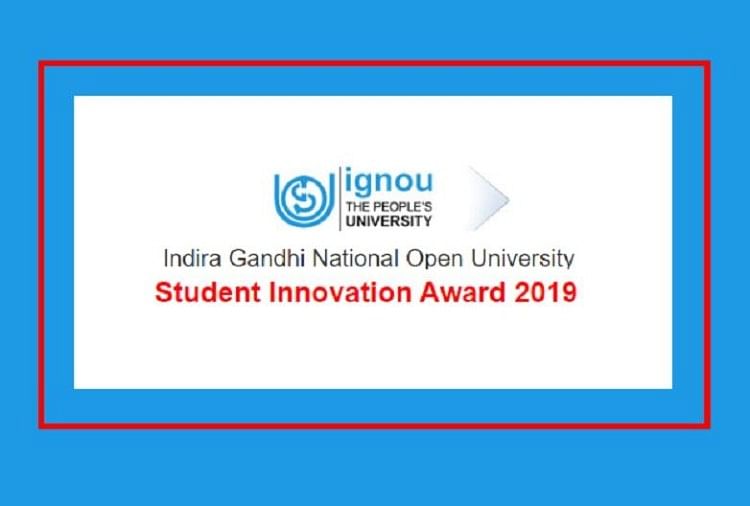 Indira Gandhi National Open University (IGNOU) has a varied group of students having different kinds of skills and talent. It is observed that many of them are involved in doing new and innovative things at their workplace or at home.
Considering the students being the most important stakeholder of the system, the university has formulated a scheme for identifying and recognizing the innovator students of IGNOU and instituted the "Student Innovation Award" in 2018.
Under the same scheme, IGNOU students are invited to submit their innovations in the prescribed Application Form for Student Innovation Award-2019.
Recognizing the importance of research and innovation in the overall growth and development of a nation, the Government of India has been emphasizing on the recognition and promotion of the innovators in different fields in India. The National Centre for Innovation in Distance Education (NCIDE) at IGNOU has also been working towards promoting the culture of innovation in the university.
In order to identify, recognize and nurture the innovators from amongst its stakeholders, NCIDE is making all-out efforts to reach all the stakeholders of the system.
Setting up of Institutions Innovation Council, Innovation Clubs at Headquarters and Regional Centres and Gold Medal for Innovation in ODL for faculty are some of the important milestones aimed at actively involving the innovator students and faculty for the incubation of their innovations.
The first time the Student Innovation Awards were given to the best three innovators in 2018 on the Foundation Day of the University. These awards are given every year to first three innovator students across the country.
The entries are invited from IGNOU students for the Student Innovation Award-2019. The interested students can submit their entries in the prescribed format to the Director, NCIDE, IGNOU, Maidan Garhi, New Delhi-110068.
The Regional Centres and Study Centres of IGNOU can also identify such innovators and encourage them to send their application forms to the NCIDE for further screening and evaluation of the innovations. The selected best three entries will be awarded Cash Prizes, Trophies and Certificates. The prescribed format and guidelines for submitting entries can be downloaded from IGNOU website www.ignou.ac.in or can be collected from the concerned Regional Centre of IGNOU. The last date for receiving the entries from the students is 15th October 2019.