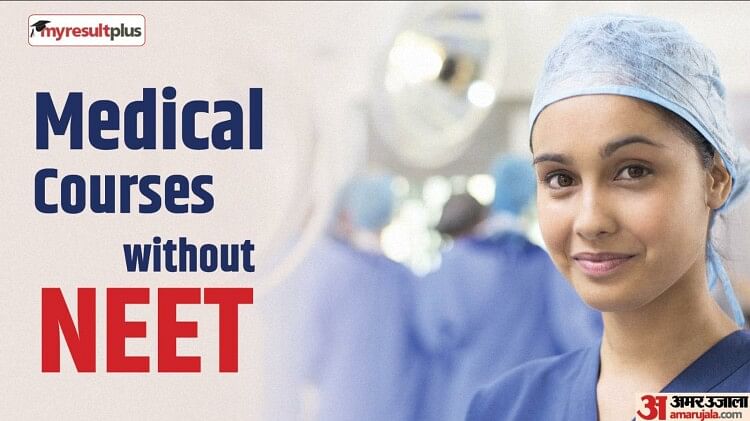 Medical Courses Without NEET: The National Eligibility cum Entrance Test (NEET) is conducted by the National Testing Agency for admission to MBBS and BDS courses in India. However, there are several alternative options available for medical students who are unable to clear the NEET Examination. Numerous fields, such as nursing, clinical research, biochemistry, toxicology, nutrition and dietetics, forensic science and criminology, occupational therapy, and many more, are open to medical students.
Alternative Fields for Medical Students Without NEET
Several reputed institutes in India offer a diverse range of courses for medical students who do not clear NEET. Examples of such institutes include AISECT University in Bhopal, Aliah University in Bengal, Banaras Hindu University in Varanasi, and Sharda University in Greater Noida.
 
Nursing
Nursing is a healthcare profession that aids in the recovery of individuals from illness and promotes their overall health and quality of life. Nurses provide care to patients and their families.
Bachelor of Science in Nursing (BSN): This 4-year undergraduate course prepares students to become registered nurses.
General Nursing and Midwifery (GNM): This course equips students for a career as a registered nurse, covering theoretical and practical aspects of nursing.
Clinical Research
Clinical research involves the study of human health and disease, encompassing observational studies and clinical trials.
B.Sc. in Clinical Research: This programmme prepares graduates for roles in pharmaceutical, biotechnology, and biomedical research.
Diploma in Clinical Research: This 10- to 12-month programmme includes practical sessions and requires a background in medical science for enrollment.
Biochemistry
Biochemistry explores the chemical elements and processes occurring in plants, animals, and microbes, as well as the changes that occur during their growth.
B.Sc.Biochemistry: This 3-year undergraduate course delves into the chemical and physio-chemical processes in living organisms.
Toxicology
Toxicology is a medical field that focuses on the study of harmful chemicals or substances in human and animal bodies. Clinical Toxicology is a popular area for medical students.
B.Sc. in Toxicology: Various institutions and universities offer courses in clinical toxicology, with selection based on exams.
Nutrition and Dietetics
Dietetics examines the impact of nutrition and diet on human health, utilizing food science and nutrition principles to improve well-being.
B.Sc. in Nutrition and Dietetics: This full-time, three-year programmme provides a comprehensive understanding of nutrition and dietetics.
Diploma in Nutrition and Dietetics
Forensic Science and Criminology
Forensic science plays a crucial role in crime detection and investigation, with forensic experts working at crime scenes, laboratories, and even in courtrooms.
B.Sc. Forensic Science: This three-year programmme focuses on forensic science principles and practices.
Occupational Therapy
Occupational therapy aims to provide therapeutic treatment to individuals in need of assistance with daily activities.
Bachelor of Occupational Therapy (BOT): This four-year programmme, followed by a six-month internship, qualifies students to become occupational therapists.
(Written By: Avantika Rana)