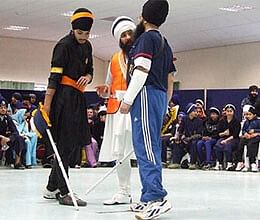 Punjabi University Patiala has launched a one-year diploma course in Gatka from the ongoing academic year to promote the traditional Sikh martial art.
An MoU has been signed between the University and World Gatka Federation (WGF) recently to start the diploma course.
President Gatka Federation of India (GFI), affiliated with WGF, Harcharn Singh Bhullar said on Sunday that 25 seats have been assigned for the course.
The students would be imparted education in various Gatka forms, fighting techniques, scientific and therapeutic aspects including soft skills, professional ethics and event management tactics.
The curriculum was designed by the sports science department and WGF, also includes practical training and thesis writing on a specific Gatka aspect.
He added that through such academic courses, the GFI endeavours to produce sizable world class trained community of professional Gatka sports persons, coaches and teachers, thereby preserving and promoting this age old traditional art as a recognized sport at national and international level.
The contents in diploma includes origins and history of Gatka, its significance, sports science, nutrition, anatomy, psychology and philosophy of the martial art, he added.