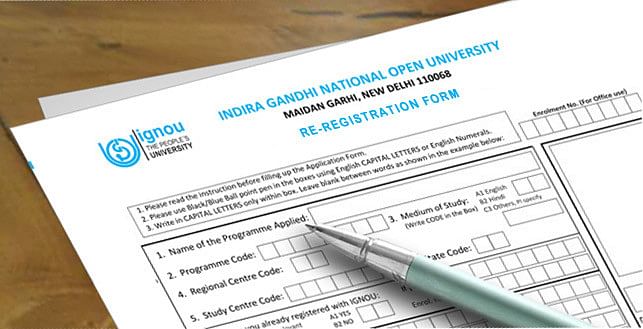 Indira Gandhi National Open University (IGNOU)
has started online registration  process for
Open Management Aptitude Test (OPENMAT) 2019
  January session
Candidates willing to appear for the aptitude test should download OPENMAT 2019 application form from the varsity's official website.
Candidates should read all the instructions carefully before starting the registration procedure.
Steps for filling Online form:
Step 1: Visit www.ignou.ac.in.
Step 2: Click on "LOGIN" button from the homepage of Online Re-registration system and then login with your UserName (Enrolment Number) and password by clicking the "LOGIN" button given on the login screen.
Step 3: Fill course details i.e. selection of the optional/Elective Courses from available groups
Step 4: Save your selections and click on next button, confirm your details and check the self declaration box and click on "Accept & Proceed Payment" button.
Step 5: Pay your Re-registration fee through debit/credit card (Master/Visa/Rupay) and Net banking :-
Payment by Debit/Credit Card (Master/Visa/Rupay): You have to select Debit/Credit Card option to pay the programme fee and follow the online instruction to complete the payment of fee. After successful payment, you will be able to print/save the payment confirmation slip.
Payment by Net banking: If you have net banking account select this option. You will be redirected to your bank website.
Payment by ATM Card (PNB)
Note:
Once you have made the payment and click the "NEXT" button you will get the Form Preview option. Save/Print your form for future reference.
FAQs
Is it compulsory to register myself before submitting an Application Form online?
Yes, it is compulsory to register with our Online System (https://onlineadmission.ignou.ac.in/entrancersunit/) before you can submit your Application Form online.
What is the detailed process for submission of online Application Form?
The submission of Application Form passes through the following stages:
Open the URL (https://onlineadmission.ignou.ac.in/entrancersunit/)
Complete Registration process (which creates 'User Name' and 'Password' for you)
Your 'User Name' and 'Password' is informed through SMS and email
Re-login to the system using your 'User Name' and 'Password'
Fill the Application Form online
Upload your recent Photograph (maximum size 100KB  in JPG format)
Upload your specimen signature (maximum size 50KB  in JPG format)
Read the declaration and check the 'Declaration' box
Preview your data and confirm details
Pay the Application Fee of Rs. 1000/- (Non-Refundable) through Credit/Debit card/Net Banking
Payment confirmation message would be sent to you through SMS and email
Press the Next button to see the form preview