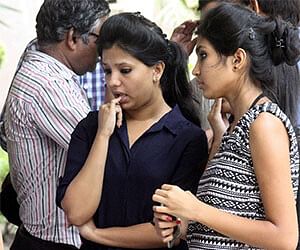 Delhi High Court on Friday dismissed a batch of pleas by students of various state boards challenging Delhi University's cut-off calculation and seeking a uniform admission process, saying they were aware of the admission guidelines beforehand and had still taken a chance.
"The petitioners, thus, at the time of applying for admission, with the knowledge of the cutoff marks of previous year and of the clause aforesaid (on cut-off calculations), are deemed to have merely taken a chance while applying for admission to the University and its affiliate colleges," the court said.
Justice Rajiv Sahai Endlaw "prima facie" held that there was "no arbitrariness" in the decision of the University "to provide for levy of disadvantage on the results of an examination, the component of theory wherein is less than 70 per cent".
The court, however, felt the varsity should reconsider this clause in the admission criteria as it felt there was "some merit in the contention that the formula adopted by the University to levy a disadvantage is arbitrary."
"Prima facie merit is found in the contention that even if the marks scored in internal assessment/continuous evaluation/ practical examination are to be disregarded, levy of disadvantage of 10 per cent of the total marks works injustice to the students whose qualifying examination has less than 70 per cent component of theory," the court said.
MORE FROM ADMISSION :4 DU colleges likely to offer BVoc courses from next year
"It prima facie appears, that such students should be graded on the basis of the marks scored by them in theory examination even if component thereof is less than 70 per cent but which theory examination the University itself treats on par with the theory examination of CBSE," it said.