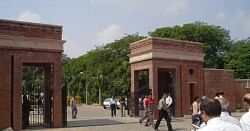 New Delhi
Delhi High Court (HC) will hear plea seeking priority for students from national capital taking admission in Delhi University (DU).
The HC on May 24 had issued a notice to the Centre, the Delhi government and DU on a plea seeking preference in admission to DU students who were Delhi domiciled, reports Hindustan Times.
According to reports, response in connection with the plea has already been sought from the DU vice chancellor (VC).
DU conducts entrance tests for professional undergraduate courses, including BA (Hons) music, BA (Hons) humanities and social sciences, BA (Hons) multimedia and mass communication, Bachelor of elementary education (B.El.Ed.), B.Tech (IT and MI), Bachelor's of management studies (BMS), BBA financial investment analysis (FIA) and a few other courses.
While registration for entrance-based Undergraduate courses started on June 16 and closed on June 25, more than 73,000 students registered for the entrance test.