Students, parents allege discrepancies in PUC marks
BENGALURU/PRESS TRUST OF INDIA
Updated Fri, 22 May 2015 09:46 AM IST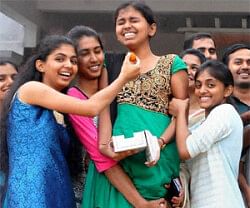 Students and parents today protested in front of the Department of Pre-University Education here, complaining about discrepancies in second PUC (class 12) results and demanded they be rectified.

They were staging protest for the last two days and were today joined by National Students Union of India (NSUI) activists who demanded that Director Sushama Godbole come out and hear the students' problem.

The protest witnessed some chaotic scenes as parents and students tried to forcefully enter the department building demanding justice but were stopped by police.

Godbole, who met the students and parents, asked students to apply for photocopy of their answer sheets and said if they find any errors in evaluation, they can apply for rechecking.

Godbole's response did not go well with the protesters as they complained that process of applying for photocopy and then revaluation was costly and time-consuming.

Students fear that if CET (Common Entrance Test) counselling process for professional courses was initiated, they would lose an opportunity to get admission in their preferred college.

They demanded that the CET counselling process for professional courses be deferred.

"Her response is not satisfactory, she is asking us to apply for photocopy and then apply for revaluation if any errors are found. Is she aware how much it will cost us and how time-consuming the process is? How will poor parents and students afford it?" a student said.

"CET counselling process should be stopped, everyone's paper should be re-corrected...I'm a distinction student till class 10, now how can I expect such low marks? I'm shocked," another student said.

Students also complained of receiving different versions of results on different websites.

They have also alleged that checking has been done by teachers who were not qualified to evaluate PUC subjects.

The second PUC results were announced on May 18.

A senior Department of Pre-University Education official said if there is error in evaluation after getting photocopy, the student can bring it to their notice, and in revaluation "all justice will be given. Our system is very strong, students need not panic."

"Whatever difference of marks gained by students after revaluation, his or her CET rank will be changed accordingly," the official said.

Rebutting allegations that valuations were done by teachers who were not qualified, he said "if some one cites proof, we will take immediate action.


Amar Ujala Results provides you the latest Indian board, university and entrance examination results. Also get admission notifications, counselling information and career tips. Register on Amar Ujala Results to get results on mobile and email for UP board, Uttarakhand board, Jharkhand board, Himachal Pradesh board, Haryana board, AP (Andhra Pradesh) board, WB (West Bengal) board and Gujarat board exams. Join discussions on Buzz+ forum.
© 2018-2019 Amar Ujala Publications Ltd. All Rights Reserved.