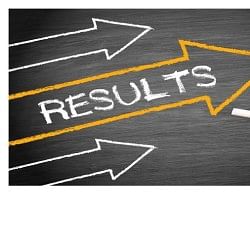 Tamil Nadu Uniformed Services Recruitment Board has announced the results for appointment of TNUSR grade II police constable.
The results are now availableon the TNUSR's official website.  
"The Final Provisional Selection list and Final Cut off marks for Common Recruitment of Gr.II PC -AR, Gr.II Jail warder and Firemen - 2017-18 has been published," read a notice on the board's official website.
How to check TNUSR grade II police constable results?
The simple steps to check TNUSR grade II police constable results as follows:
Step 1: Visit www.tnusrbonline.org.
Step 2: Go to the relevant result link.
Step 3: Read the instructions and check the results.
According to a press release, a total of 6,119 candidates, including 1,303 women, have been selected in the common recruitment for grade II police constables, grade II jail warders and firemen vacancies in police, prison and fire and rescue services departments.
Name of Organization:             Tamil Nadu Uniformed Service Recruitment Board
Also Known As:                TNUSRB
Total No. of Post:             6140 Vacancies
Name of TNUSRB 2018 Vacancy:      Constable Grade-II, Jail Warder & Fireman
TN Police Exam Type             TNUSRB Police Constable Exam 2018
TNUSRB web portal    www.tnusrb.tn.gov.in
Helpline  
For Technical related queries: 044 - 40016200     
For Application Form Clarifications: 044-28413658
9499008445,9176243899,9789035725     
For Payment related queries: 044-28308962,044-28308963,044-28413658
For any queries:
[email protected]
TNUSRB Syllabus 2018
General Knowledge
    Economy
    Knowledge of Current Events
    History
    Scientific Research
    Budget and Five Year Plans
    Geography
    Economy, Banking, and Finance
    Indian Constitution
    Science – Inventions & Discoveries
    Culture
    India and its neighboring countries
    Sports
    Current Affairs – National & International
    General Politics
    Important Financial & Economic News
    Countries & Capitals etc.
General Mental Ability – TNUSRB Jail Warder Syllabus 2018
    Analogy
    Classification
    Series
    Coding-Decoding
    Blood Relation
    Direction Test
    Logical Venn Diagrams
    Alphabet Test
    Sitting Arrangement
    Mathematical Operations
    Arithmetical Reasoning
    Inserting the Missing Character
    Number, Ranking and Time Sequence Test
    Eligibility Test
Processing of applications
The TNUSRB has prescribed different format of application for each category of recruitment after taking into account the pre-requisite qualifications and service conditions. Application fee by way of Demand Draft shall be payable by the candidates at the rates fixed by the Government. Currently the following fees are fixed as application fees:-
i)        For S.I. of Police including Women S.I and S.I (Technical) :     Rs. 250/-
ii)       For Gr. II Police Constables / Firemen / Jail Warders :          Rs. 150/-
Candidates are permitted to send only one application. Application for more than one centre is summarily rejected. The candidates should possess the educational qualification and age as prescribed in the notification for recruitment.