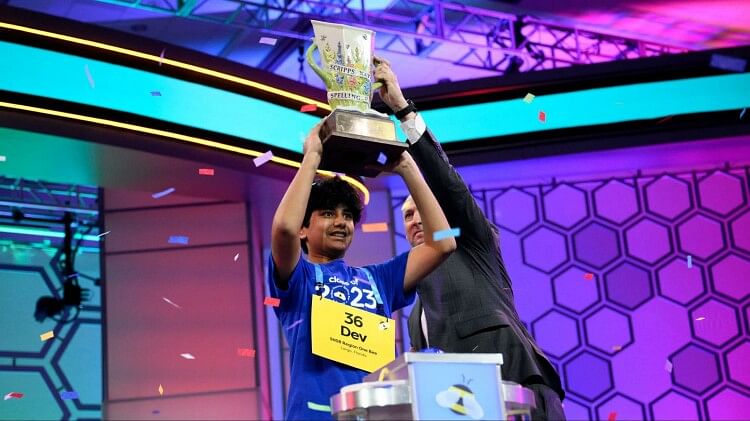 Dev Shah Wins US Spelling Bee: Dev Shah, a 14-year-old Indian-American eighth-grader from Florida, emerged as the winner of the prestigious 2023 Scripps National Spelling Bee by correctly spelling the word 'psammophile'.
Dev Shah: 22nd Champion of the Spelling Bee Wins USD 50,000
Shah's accurate spelling secured him the victory in the 95th national bee, along with the USD 50,000 prize, on Thursday. Expressing his excitement, he remarked, 'It's surreal... My legs are still shaking,' at the competition held in National Harbor, Maryland.

Shah's smiling face lit up the stage as he successfully spelled "Psammophile", a term referring to a plant or animal that thrives in sandy areas. Demonstrating his knowledge, he inquired, "Psammo meaning sand, Greek? Phile, meaning love, Greek?" Shah's instant recognition of the word's roots, combined with his confident demeanour and slight smile, indicated his certainty of having spelled it correctly, according to the New York Times.

This marked Shah's third attempt at the Scripps National Spelling Bee, having previously participated in 2019 and 2021. Overwhelmed with pride, Shah's emotional parents joined him on stage, with his mother mentioning his four years of preparation for this remarkable achievement.

Out of 11 million participants from spelling competitions around the world, eleven students made it to the finals. The preliminary rounds began on Tuesday, followed by the quarterfinals and semifinals on Wednesday.

Charlotte Walsh, a 14-year-old from Arlington, Virginia, secured the position of runner-up.

The Spelling Bee, an event that challenges elementary and middle school students with words that would perplex most adults, has experienced a tumultuous few years. Launched in 1925, the National Spelling Bee faced cancellation in 2020 due to the COVID-19 pandemic, causing significant disruption to what is regarded as the largest and longest-running educational programme in the United States. The competition made a comeback in 2021, albeit with some modifications.